Festival Venues
Festival Venues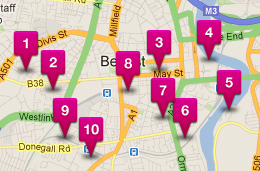 50 Red Plagues mark the locations of these venues and will be displayed throughout the 2012 Festival.

This is a representative survey of some of the venues that have been used during Festival since 1961. Festival uses a wide range of venues and public spaces which changes year to year.
These venues were chosen to represent the broad spectrum of venues from the unusual, community focused to traditional.
1. South Dining Hall
Queen's University Belfast, Main Campus
2. Whitla Hall
Queen's University Belfast, Main Campus
Used extensively for theatre, music, comedy, talks etc
Jimi Hendrix to Noam Chomsky have graced the stage
3. Whitla Basement
Queen's University Belfast, Main Campus
4. Students Union
Queen's University Belfast, University Road
Recently for pop, rock and dance
Gigs that appeal to students and younger audiences
Three different venues within the building
5. Elmwood Hall
Queen's University Belfast, 89 University Road
Huge range from music performances and talks and lectures
First used in 1972 for a performance from BBC NI Orchestra
Elmwood Gallery also there – temporary exhibition space
Main space for festival talks and lecture series
Refurbished in recent years
6. The Naughton Gallery
Queen's University Belfast, Lanyon Building
Since 2001 centre of visual art programme. Major exhibitions and outreach activities
7. Queen's Film Theatre
Queen's University Belfast, 20 University Square
Born from festival
NI's only art house theatre
Large majority of film programme/talks etc
8. Old Library
Queen's University Belfast, Main Campus
Used as a venue from 1970s
Home of folk club until late 1970s
Used for theatre, seminars, lectures etc
9. The Harty Room
Queen's University Belfast, School of Music
Wide range of musical events – large majority classical recitals
Major venue for School of Music
60s lunchtime recitals, music at night etc
10. The Sonic Arts Research Centre
Queen's University Belfast, Chlorine Park
Opened in 2004 and now an established centre of excellence dedicated to the research of music technology
State of the art Sonic Laboratory
Technological facilities to accommodate cutting edge sound and music performances
11. The Hut
Queen's University Belfast, Camden Street, Belfast
The Hut on Camden Street no longer exists
Home of the Dramasoc in 60s – used by them and other QUB societies along with touring companies
12. Senior Common Room
Queen's University Belfast, University Road
Folk club based there from 78 until then.
Closed in 2004
13. Brian Friel Theatre
Queen's University Belfast, 20 University Square
Opened in 2004, major theatre venue for the festival hosting performances from University students and professional companies
14. The Great Hall
Queen's University Belfast, Lanyon Building
Centre piece of the University - Lanyon Building and Great Hall built in 1849
Home to classical performances and folk gigs in 60s
15. Anatomy Museum
Queen's University Belfast, Administration Building
60s Folk venue
'Folk among the dead Folk' really popular
16. David Keir Building
Queen's University Belfast, 20 - 30 Malone Road Belfast
Films pre QFT
Some lectures
17. Social Science Theatre
Queen's University Belfast, Peter Froggatt Centre, Main Campus
Now the Peter Froggatt centre on the Queen's quadrangle, the Social Science theatre
used a lot in 60s for the main lectures and talks, some theatre and jazz gigs like Cleo Laine
Opened gallery temp gallery space in 70s
18. McMordie Hall
Queen's University Belfast, School of Music
McMordie Hall was the Queen's students Union
Hosted some late night revues in 60s
Lunchtime film programme in 60s
Also hosted jazz and folk gigs (was Guiness spot in early 70s)
19. New Physics Theatre
Queen's University Belfast, Main Campus
The New Physics Theatre provided a home to one of the more unusual events of the festival, Clement Freuds cook-ins that took place in the 60s. Here Clement Freud fed the hungry festival hords and taught them how to coook...
20. Drama Studio
College Green Mews (behind Dukes Hotel), Belfast
Tucked away in a back street, no longer in use, previously part of University
Performances from QUB drama soc and local groups like Belfast Community and Youth Drama throughout 70s
21. The Lyric Theatre
55 Ridgeway Street, Belfast
First Lyric festival performance seems to be Whose Afraid of Virginia Wolf in 1966 on the old Derryvolgie Avenue site. First performance on this site was in 1968 with Chekov's The Seagull
22. Waterfront Hall
2 Lanyon Place, Belfast
Opened in 1997 and has a main festival venue throughout 2000s.
Opening Concerts
Comedians, orchestral etc
Waterfront studio hosted smaller, more intimate gigs, lots of dance and community workshops etc
23. Ulster Hall
34 Bedford Street, Belfast
Not only the main hall but also the Group Theatre
Boxing in 60s
Comedy, Music and more throughout festival history
24. Ulster Museum
Botanic Gardens, Belfast
Talks, lectures, exhibitions. Festival venue from 64 to present
25. The Arts Theatre
41 Botanic Avenue, Belfast
Major theatre venue from 66
Hosted international and local companies
Also orchestral and opera performances
Comedy such as Michal Palin
26. Grand Opera House
2 - 4 Great Victoria Street, Belfast
National Theatre 1965
Michael Barnes was Director after 1980
Festival contributed to its reopening
Out of action from 1969 – 1980 c.
First listed building in Northern Ireland
27. News and Cartoon Cinema
Stokes House, 17 College Square East, Belfast
No longer exists
In early years of the festival, before the existence of the QFT screened hugely popular Late Night Films
28. The Linen Hall Library
17 Donegall Square North, Belfast
Ireland's oldest subscription library since 1788
Hosted talks and music
Extended in 2000 to include performance area
29. Belfast Model School for Girls
35 Dunowen Gardens, Belfast
The Model School and the Belfast Synagogue venue of 2009 continued to move the festival out of the centre towards the outer reaches of the city'
30. No Alibis Bookstore
83 Botanic Avenue Belfast
The leading independent bookseller in Belfast, this venue holds music and literature events throughout the year. It's proprietor, David Torrens was literature programmer for the Festival in 2012
31. Wellington Hall
Oyster House, 12 Wellington Place, Belfast
60s venue – performances from Ulster Orchestra, RUC Band
32. Aquinas Hall
Arts Council Northern Ireland, MacNeice House, 77 Malone Road, Belfast
Festival's strong connections and relationship with the Arts Council
Started using hall in 68 for theatre and was used until 89
Also held some talks and musical performances from Studio Opera Group etc
33. Stranmillis College Theatre
Stranmillis University College, Stranmillis Road, Belfast
Used from 78
Extensively for Dramatic productions
34. Old Museums Arts Centre
7 College Square North, Belfast
Seems to have been used first in 1990 and has been significant venue since being used extensively every year until it's closure for a wide range of events
35. Barrow Square
Clarendon Dock, Belfast
Macbeth 2009
Festival's interest in site specific theatre from international companies
36. St Annes Cathedral
Donegall Street, Belfast
First used as a venue in 1965 and is still used today.
Mostly classical recital performances
37. Clonard Monastery
Clonard Gardens , Belfast
Began to use in 2000s
Special atmospheric festival venue for classical performances such as Ulster Orchestra performing score from There Will Be Blood.
38. The Crescent Arts Centre
2-4 University Road Belfast Co. Antrim Northern Ireland
First used in early 90s and became one of the most widely used festival venues from workshops, theatre, music, talks to the festival club.
39. Divis Tower
Divis Street, Belfast
Rita Duffy Installation
On of most recognisable buildings in city
40. Ulster Bank, Donegall Square
11-16 Donegall Square East, Belfast, Co Antrim
2008 The Young Musicians
Headquarters to the festival sponsor
The development was created around the façade of an old Methodist church designed by
41. Europa
Great Victoria St., Belfast
Festival Club
Where festival artists have traditionally stayed over the years
42. Belfast Exposed
The Exchange Place, 23 Donegall Street, Belfast
Exhibitions throughout 90s/2000s
One of the main Cathedral Quarter Venues
43. Custom House Square
Custom House Square, Belfast
Site of the Speigeltent, which visited Festival from 2007 onwards
44. George IV Youth Centre
Corner of Joy Street and May Street, Belfast
Now a car park
60s popular for opera from Intimate Opera Company and Belfast Operatic Society
45. Ulster Arts Club
90 Lisburn Road, Belfast
Used in early 90s for talks such as Benedict Kiely in 92, some music performances and Drama productions like Krapp's Last Tape
46. Tower Street Theatre - Belfast Metropolitan College
Belfast Metropolitan College, Tower Street Campus, Belfast
Cahoots productions in 2000s such as Only Believe and The Musician
47. Portview Mill
Portview Trade Centre, 310 Newtownards Road, Belfast
Linen spinning mill ceased trading and in the early 1980's, the building was sold and converted into useable workspaces for small businesses
Creative Exchange Art on the Eastside exhibitions
48. Arts Council Gallery
Bedford House, 16 - 22 Bedford Street, Belfast
The site of the Arts Council Gallery is now Bedford House, a busy office complex.
Open from 1968 taking over from gallery on Chichester Street.
First festival exhibition there in 1973 – Italian Conceptualists
49. Ormeau Baths Gallery
18 Ormeau Avenue Belfast, County Antrim
Opened 1995
Forefront of contemporary art with exhibitions from Gilbert and George, Bill Viola and Yoko Ono.
50. Obel Tower
Donegall Quay, Belfast
New Venue making most of unused commercial space in the city
2011 Corcadorca Theatre Company production 'Request Programme'