Genres
Classical and Sonic Arts
Nuts & Bolts of the Festival
Classical and Sonic Arts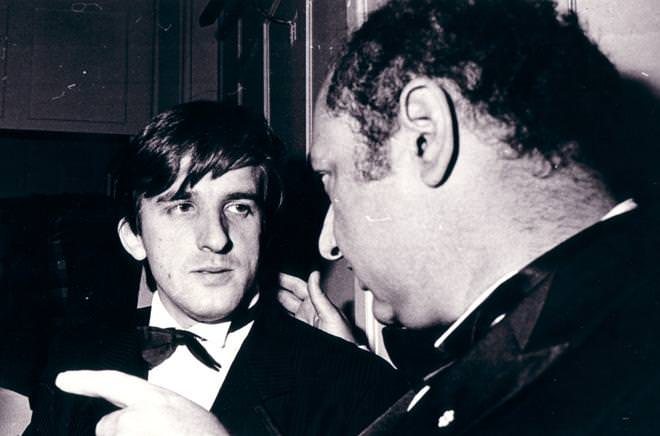 At the heart of the Festival is classical music.
A look over the programmes of the last 50 Festivals gives one a sense that classical music was both popular and important to the audiences of the city. Two orchestras were based in Belfast in the 60s, the Ulster Orchestra and the BBC NI Orchestra, both of which were small groups, curtailing the possibilities for larger scale performances. The first major international orchestral group to visit, the Philharmonia Hungarica, arrived in 1966, but played to smallish audiences in the Ulster Hall.
However, smaller chamber and individual performers flourished throughout the 1960s, with names such as Sviatoslav Richter, the Soviet pianist, or Julius Katchen, his US counterpart. Throughout the years the Festival has always had favourite performers who have returned repeatedly, such as Nikolai Demidenko, Yehudi Menuhin and Heinrich Schiff.
Late night recitals were a way of the Festival creating opportunities for local performers, one such being James Galway, who became one of the Festival's favourite performers. Other local stars such as Heather Harper and Barry Douglas have created huge appreciation for their work through the Festival, with Douglas's performance with L'Orchestre Symphonique de Montréal being remembered as a particular highlight from 1987.
Other visiting orchestras included the Hallé Orchestra, who performed Mahler's First Symphony, and a legendary visit from the USSR Symphony Orchestra, which tested the diplomatic skills of the Festival staff to the limit. The City Council gave the players a reception at City Hall, however they were slightly disappointed that the reception was alcohol-free on the orders of the Deputy Mayor of the time. Festival in the 1960s was responsible for commissioning Raymond Warren for various pieces and he took the lead on creating concert and chamber works for the Festival, joining with Seamus Heaney for poetry evenings, and working with the RTE String Quartet.
Ravi Shanker visited the Festival in 1968, just after the Beatles had first visited India, proving the ability of the Festival to catch the tenor of the times.
The Festival has always broken ground in terms of the wider reaches of classical and sonic music. Phillip Glass visited in 1998 playing with the Ulster Orchestra, and his collaboration with Robert Wilson, "Monsters of Grace" was part of a series of his projects showcased at the 1997 Festival. Glass's regular collaborator Brian Eno, one of the principal innovators of ambient music, also attended the Festival in 1998 as part of the BT Talks series. Another notable event in 1997 was the Roaratorio by John Cage, a sound installation in the Waterfront Hall. The sounds were collected by Cage during a trip to Ireland in the 1980s.
Recent years in the Festival have seen Brian Irvine's "The Tailor's Daughter" play at the Grand Opera House, and soundtrack composers Ennio Morricone and Michael Nyman have also brought their particular sounds to Belfast.