Nuts & Bolts of the Festival
Comedy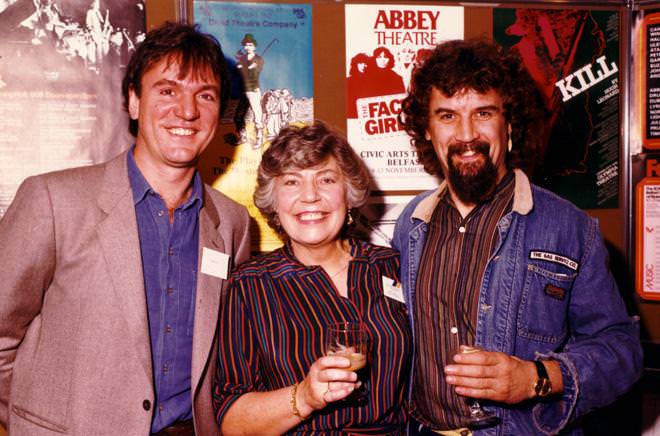 The Festival's perceived aim since 1964 has been to appeal to a wide range of audience tastes, and one of the ways to catch a large section of audiences is to make them laugh.
Comedy has played a key role in broadening the Festival and resisting any charges that it catered only to high-brow artistic tastes.
Victor Borge the Clown Prince of Denmark, as he was known, was one of the first comedy stars to appear at the Festival, but in the 1960s it was mainly student revues, in the style of "That Was the Week That Was", which proved popular to Belfast audiences. The late Ian Hill played the Whitla Basement with his revue "A Hatful of Strawberries", and the future political tyro Eamonn McCann created "No Man's Prayer". The revue periodically returned throughout the years, with Charlie Warmington, ex marketing and press officer for the Festival, producing a number of Northern Lights, starring John Hewitt, Marie Jones, Ian McElhinney and Libby Smith.
In 1979 an unknown comedian was booked for a week's run at the Arts Theatre on Botanic Avenue, a risky gamble for any Festival. After the first night however, the comic's name was a Festival hit, and the show sold out for the rest of the week. The comedian was Rowan Atkinson. Eight years later Atkinson returned to play another sell out week, this time at the Whitla Hall.
Another big star of the Festival was Billy Connolly who came solo in 1980, but also returned for a sell-out week performing with Ralph McTell. Groups from England often came calling including Fascinating Aida, and Instant Sunshine, whose Miles Kington wrote a piece for Punch magazine recounting the tale of buying sunglasses on the Ards peninsula in late October 'for a job I was doing tonight'. After thinking it through, he told English audiences that maybe that wasn't the best way to describe a humorous revue in Northern Ireland in 1976.
One comedian who made Belfast a temporary home was Michael Palin of "Monty Python" fame. Persuaded by Michael Barnes to perform a one man show in 1978, he returned in 1981. This was the first and only time he performed a one man show, refusing all offers, on the grounds that 'it couldn't be better than the Belfast Festival'.
Throughout the late 80s, 90s and 2000s, the rise of Rock and Roll comedy was reflected in the Festival comedy programme, from Julian Clary's "Joan Collins Fan Club" in 1988 to Mitchell and Webb packing out the Whitla Hall.
In the spirit of the early revues, the Festival has given a platform for local comedians such as Jake Junior, Colin Murphy and Patrick Kielty and the Hole in the Wall Gang, who first presented "A Kick Up the Arts" in 1992.