Nuts & Bolts of the Festival
Folk and World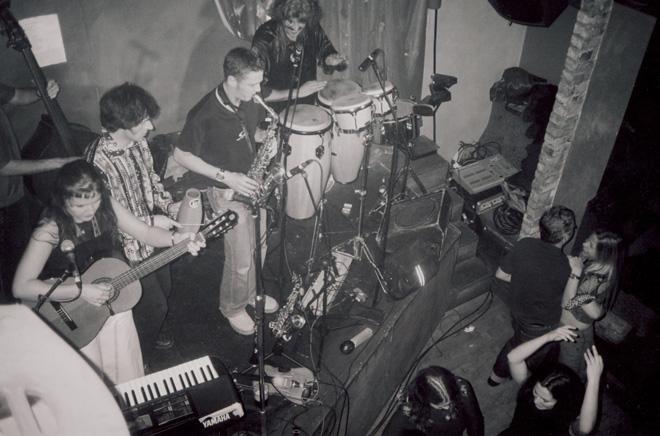 Folk music has been a part of the Festival since its inception.
It began with Michael Emmerson, first formal Director of Festival, producing a folk concert with the poet James Simmons and bringing Joan Baez to the Whitla Hall in the 1960s. In 1964 the folk element of the Festival was housed in the old Anatomy Museum, later moving to the Union Diner to accommodate larger audiences. Through the 1960s the folk music element was usually programmed by the Folk Music Society based in Queen's, and the Festival succeeded in bringing to Belfast huge acts from the folk world of the time. Ewan McColl, writer of "Dirty Old Town", Pete and Peggy Seeger, The Dubliners and a perennial favourite of local audiences, The McPeake Family.
With the return of the Festival in 1972, folk was placed in the same venue as jazz, sharing the South Dining Hall as part of the newly created Guinness Spot. In a particularly rich period for folk, the Festival brought to Belfast audiences performers such as The Watersons, Silly Wizards, Planxty, Boys of the Lough and the Chieftains.
In 1978 the two genres were split, with jazz retaining the South Dining Hall and folk moving to the rather cold Old Library building, as well as other venues. 1978 saw Paul Brady play at the Elmwood Hall just after the release of his last purely folk album, "You're Welcome Here Kind Stranger". People still talk of his rendition that night of "The Lakes of Pontchatrain". A favourite of audiences in the 1970s was the much lamented English folk singer, Jake Thakery, who first visited in 1969 and returned again and again over the next decade, and Ralph McTell, who came both as a solo performer and also performed a week of gigs with Billy Connolly.
As the 1980s continued, "Round Midnight" was recorded live from the Elmwood on Radio 2, and a favourite of the Festival was established by the actor Joe McParland who performed his "Turn Down the Lamp" review, creating an experimental miscellany of poems, stories, music and song, a hugely successful event each year.
Throughout the 1990s and in more recent years, popular names from the Irish music scene such as Frances Black, Sharon Shannon, Altan, and Kila have also played to Festival audiences. The Festival programme began to look to music from beyond the British Isles, bringing the bourgeoning World music scene to Belfast. Groups such as the Buena Vista Social Club and the Afro Cuban All Stars have helped promote music from their countries and have been hugely popular during the Festival.